The Nigerian Association of Medical Physicists (NAMP), on Monday, November 7 celebrated the International Day of Medical Physics (IDMP), a day set aside by International Organisation for Medical Physics (IOMP) to celebrate the role of physicists in medicine and related fields. It is a day that commemorates the birthday of Marie Curie a two-time Nobel Laureate who discovered Radioactivity. The event, tagged Ibadan 2022 with the theme; "Medical Physics for Sustainable Healthcare," as celebrated worldwide, was held at the University College Hospital (UCH), Ibadan.
The National President of NAMP, Professor Fatai Balogun, who gave the opening speech, said the association was formed at a time when issues bordering on the safe use of radiation became a subject of interest. Several events like the establishment of Radiotherapy, Radiology, Radiation Protection and Nuclear Medicine services, across various tertiary health institutions in the country as well as the increase in academic programs in Nuclear Science and Engineering, accentuated the need for establishing a body that would be responsible for developing a framework for training and equipping of manpower with adequate knowledge, fostering the educational and professional development of medical physicists, while promoting the highest quality of medical services for patients.
NAMP was formally established in 1986 with Professor Tagirin A. Fregene as its first president; subsequently, Professor James B. Olomo of the then University of Ife (now Obafemi Awolowo University) and just outgone president, Professor Moses A. Aweda formerly of the University of Lagos. Professor Balogun added that NAMP remains committed in its quest to offer qualitative service in the academia, industry and healthcare through deliberate programs, rich curricula, trainings and collaborations with national and international organizations. Among other speakers at the conference were Professor A. A. Matti, who represented the chairman of the National Atomic Energy Commission (NAEC); Representative of the Director General (DG) of Nigeria Nuclear Regulatory Authority (NNRA), Dr. Samuel Oyeyemi; Dr. Taofeeq A. Ige (immediate past President of Federation of African Medical Physics Organizations), and Professor O. B. Awojoyogbe of the Federal University of Technology, Minna, Niger State.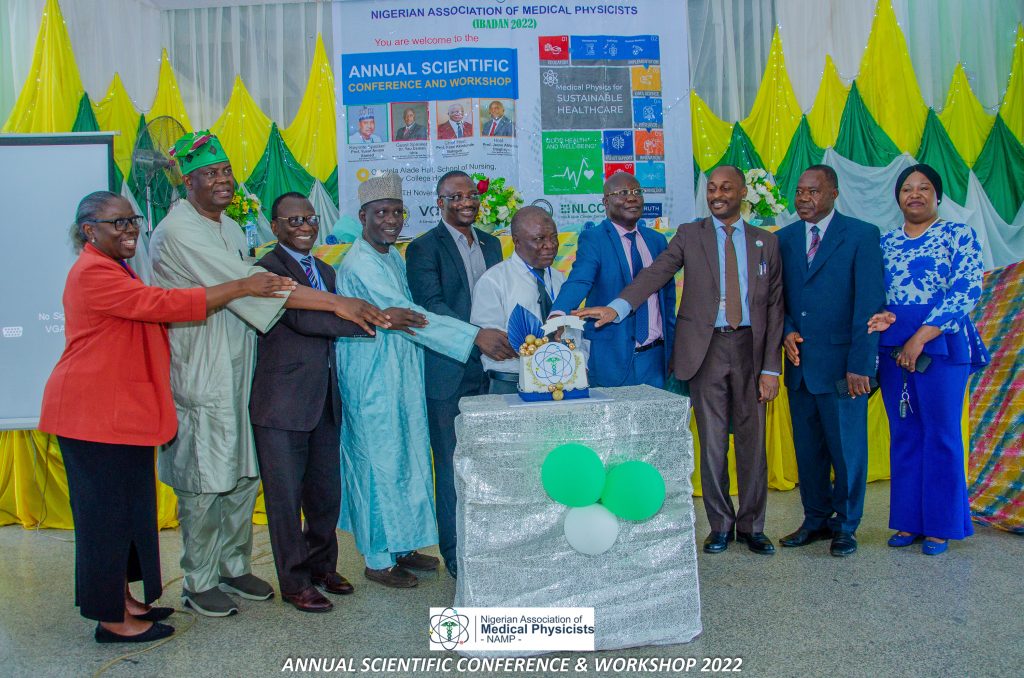 The Medical Physics profession applies the principles, concepts and methods of physics in medicine, especially for the diagnosis and treatment of diseases of which cancer is of major interest, with a specific goal of improving human health and well-being. The Medical Physicist as defined by the International Atomic Energy Agency (IAEA) is an "expert in physics and instrumentation with a good knowledge of the relevant biology and provides technical support for therapeutic and diagnostic medical procedures and treatments as a member of a team of health care professionals". The profession is made up of highly qualified health professionals with first degrees in Physics, with an advanced postgraduate university degree (Msc and/or PhD) in Medical Physics and specialized clinical training mainly in Radiation Oncology, Diagnostic Radiology, Nuclear Medicine, non-ionizing radiation, physiological measurements, rehabilitation, Radiation protection and safety to mention a few. These clinical training are usually acquired through a structured training program. The Medical Physicists form part of the multidisciplinary team of medical and health professionals mainly in radiation medicine. It is important to note here that this special field of medicine is founded on Physics and cannot be initiated or operated without the consultation and function of a qualified Medical Physicist.
The responsibilities of the Medical Physicists include the establishment of adequate protocols to ensure accurate patient dosimetry; advising and consultation with radiation physicians on the appropriate radiation dose required for treatment and diagnosis; ensuring radiation is prescribed and delivered safely to patients; development of radiation treatment plans; measurement and characterization of radiation; determination of delivered dose; protection of patients, staff and the public from potentially harmful or excessive radiation; advancement of procedures necessary to ensure the quality of medical images; development of quality assurance programs; ensuring the safety, operation and performance of radiation equipment and computer systems; carrying out acceptance testing and commissioning of equipment before clinical use; ensuring safety and accuracy in medical radiation medical procedures; design and fabrication of treatment aids; teaching and training of medical professionals specializing in radiation medicine; radiation protection education and training of medical and non-medical radiation professionals; training of radiation workers on the use of radiation, modern techniques and technology; development of novel and advanced techniques for the treatment of cancer and other life threatening diseases; formulation of radiation protection guides and procedures; assistance to other health care professionals in optimizing the balance between the beneficial and deleterious effects of radiation; research and development to improve patient care, etc. Essentially, Medical Physicists' clinical practice ensures safe and effective delivery of radiation to achieve a diagnostic and therapeutic goal. It is worthy to note that these are highly specialized duties that require safety, precision and accuracy which should be carried out by competent personnel only.
As elaborate, involving, critical, strategic, and indispensable the medical physics roles are, it is disheartening that even the recognition of medical physics in the scheme of service of the federation has remained elusive despite several frantic efforts. While it is not possible to establish a radiotherapy centre without a medical physicist, it is unimaginable and disheartening that medical physicists who play a central role in radiation medicine do not enjoy the rudimentary minimum required to exist as a professional body. It is further shocking that a profession that requires at least a masters degree in medical physics and years of clinical training before being a clinically qualified medical physicist, is left in oblivion despite its best effort in addressing this terrible anomaly through audience with various government agencies. Many are being owed salaries due to the lack of the Scheme of Service. "I can't do my job without a medical physicist" says one radiation oncologist. "We are losing them to private establishments and overseas". "I fear we may face a looming crisis in cancer treatment, diagnostic radiology and nuclear medicine if the issue of medical physicists is not addressed by the government".
The Nigerian Association of Medical Physicists (NAMP) thus seeks the urgent attention and intervention of the relevant government agencies and parastatals in producing a Scheme of Service (SoS) for clinical medical physicists, the resuscitation of their clinical training program, and establishment of the long-awaited Medical Physics Bill for the governing and credentialing of the practice of Medical Physics Profession in Nigeria for the safety of patients, staff and the general public and for related matters. Both would beyond any reasonable doubt, accentuate the development of the medical physics profession and address the current needs of medical physics in the country. The overall effect of these would be a significant positive impact on radiation medicine, including an improved diagnosis and treatment of cancer which has placed a huge burden on the nation's healthcare. It is worthy of mention that medical physicists through its involvement in radiotherapy services are contributing to the economy through stemming the medical tourism especially in the last five years with an expanding manpower versed in the current and advanced treatment techniques, commissioning of TPS (treatment planning system) both in external beam radiotherapy and brachytherapy, machine learning, artificial intelligence and research.
As medical physics worldwide continue to respond with improvement and preparedness to evolving technology, NAMP is not left out in equipping its members with requisite skills and CPD programs. Collaborations with international organizations like, AAPM (American Association of Physicists in Medicine), IPEM (Institute of Physics and Engineering in Medicine), ACPSEM (Australasian College of Physical Scientists and Engineers in Medicine) have also yielded positive outcomes. The medical physicist is thus devolved with the responsibility of a sustainable healthcare through energy and synergy. Energy – the medical physicist expends his energy through advisory roles, professional service delivery, diagnosis, analysis, teaching and training of young medical physicists, residents in radiology, audiology, cardiology, radiotherapy, orthopaedic surgery, neuro-surgery, nuclear medicine, radiographers, biomedical engineers and technologists, radiation oncology nurses etc. Synergy – as medical physicists find themselves always immersed in a multi-disciplinary profession, team work remains key and it is thus fair in the very least that a profession with this level of involvement and importance be left out in the scheme of things.
As NAMP continues to contribute its quota to the nation's development in leaps and bounds especially in the medical industry, it is time the government took a drastic action to do the needful for this profession that is practically being foisted with an endangered status.